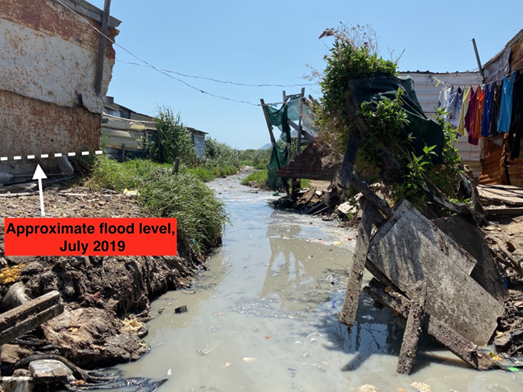 How can we best measure the resilience of marginalised urban communities?
These communities have to build their resilience in face of growing environmental shocks and stressors.  A first step will be measuring existing resilience strengths and weaknesses, but past approaches can take a narrow view of resilience or lack quantification.
A new paper reports pilot application of the RABIT (Resilience Benchmarking Assessment and Impact Toolkit) framework, which conceives resilience as nine attributes each with measurable markers. The framework was used to measure resilience of Masiphumelele: a South African township of formal and informal housing regularly disrupted by flood, fire, storms and violence.
The measurement found resilience strengths in self-organisation and scale of external connections; but weaknesses in robustness and equality.  While the community is relatively good at the coping aspects of resilience such as response and recovery to shocks, it is poor at withstanding shocks and at transforming itself.
This measurement of resilience can then be used as the basis to plan future resilience interventions: feeding results back to key community stakeholders; prioritising resilience weaknesses and resilience-building actions; and then putting those actions into practice.