As we move beyond the hype, the hope or the frustration that events such as COP15 inspire, its fair to recognize the intrinsic value of the process that has brought us here. There is value on the renewed global awareness of the fact that our environment is rapidly and irreversibly changing, as well as on the realization of the close links that exist between climate change and the vulnerability of the poor.
There is also value in the recognition of new issues that play a role in fostering development amidst the shifting climate, and that can make a difference in the type of response that we are able provide to its challenges. Amongst them, the role of Information and Communication Technologies (ICTs) is particularly relevant.
ICTs and Climate Change was the focus of a side event organized by ITU and OECD, in partnership with GeSI, during the UNFCCC climate change talk in Barcelona, last month. All the presentations are available in YouTube.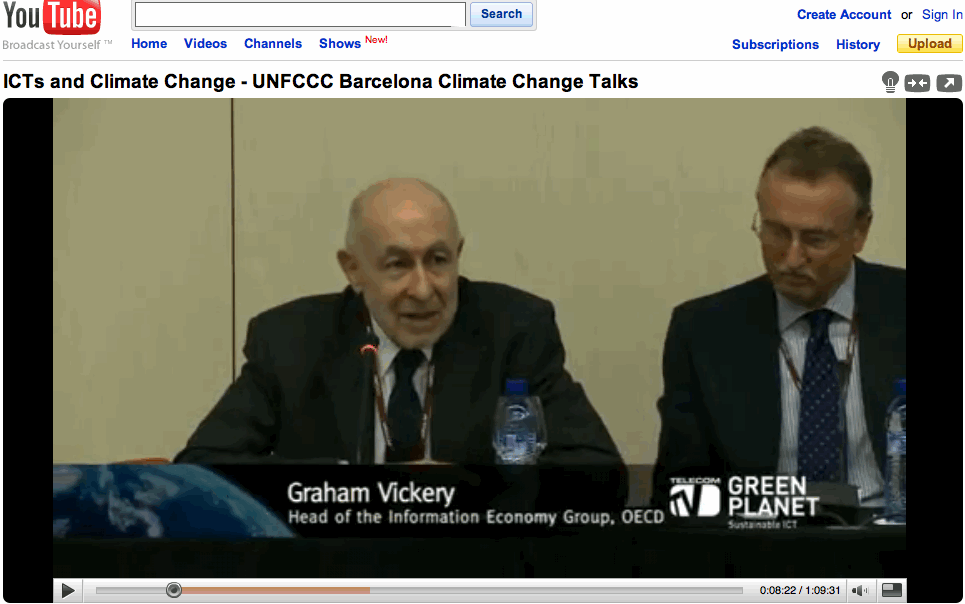 Graham Vickery (OECD) was one of the speakers invited (starts in minute 8:24).
He pointed out the fact that, despite the pervasiveness of ICTs in our daily life, and perhaps because of it, we have failed to make the link between their potential and our response to climate change.
He also suggested 3 main levels of ICT impact in the environment: (a) ICT equipment (electricity and energy use, raw         materials and disposal), (b) ICT 'Smart' applications, and (c) ICTs and the need for systemic change. According to Vickery, part of the challenge is making these three levels more clearly linked with major areas that are under consideration right now, namely mitigation, adaptation, and technology transfer.
His presentation raises some interesting issues for discussion:
How would the climate scenario look like if –at least part of- the 4 billion mobile telephone subscribers play a role in monitoring and documenting the effects of climate change, and in managing the carbon footprint?
What type of 'Green changes' could ICTs help us foster in our daily lives? What could we do different or more efficiently with the help of these tools?
How could we contribute as consumers –and producers- to the three main levels that Vickery points out?
In considering these questions its useful to look at Richard Heeks' overview model on 'ICTs, Climate Change and Development', as it provides further details on the ways in which ICTs can play a role in mitigation, monitoring and adaptation strategies.
All these issues will need to be carefully considered as the global community moves forward from COP15 to COP16 in Mexico 2010. And although new hype, hope and skepticism will continue to surround the process, we need to be better prepared to effectively insert ICTs and its contribution to development into the climate change agenda.